Aging Biomarkers Focus on Mitochondrial Mutations and Mitomap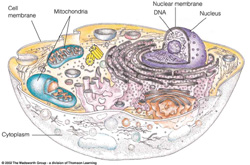 Aging cells show their age in different ways. Their telomeres shorten, they accumulate nuclear DNA errors, and mitochondrial DNA deletions accumulate. Medical researchers, drug researchers and cosmetic researchers, all want to find ways to monitor the efficacy of their treatments and products. To that end, they are contributing to the mapping of the mitochondrial DNA genome, called
the mitomap
. The state of the mitochondrial genome, with its point mutations and deletions, will constitute biomarkers, to indicate cellular age.
The new biomarkers are changes to the DNA of cellular organelles called mitochondria. Mitochondria, which have their own DNA that is distinct from the DNA in the cell's nucleus, serve as the "power plants" of the cell. They manufacture energy in the form of the molecule ATP. Energy generation includes, as a byproduct, the production of reactive oxygen species, which can damage the DNA present in mitochondria, Sligh said.

Some theories of cellular aging -- why and how cells age -- center on mitochondria and decreased energetic capacity resulting from mitochondrial DNA mutations, Sligh explained. In addition, mutations in mitochondrial DNA have been associated with tumor development.

....The investigators searched for mitochondrial DNA deletion mutations in skin samples from patients having non-melanoma skin cancer removed in the Vanderbilt Mohs Clinic. Mohs micrographic surgery is a treatment for skin cancer, particularly the most common forms: basal and squamous cell carcinomas.

Sligh and colleagues were surprised to find a panel of mitochondrial DNA deletions in the tumor-free skin that was adjacent to the tumors, but not in the tumors themselves. The tumor samples were more likely to have full-length mitochondrial DNA, with point mutations rather than significant deletions, Sligh said.

The mitochondrial DNA mutations in the tumor-free skin correlated with the aging process, Sligh said. The newly identified deletion mutations will now go into "Mitomap," a database of all known human mitochondrial genome changes.

"Unraveling the molecular clues as to why aging cells function differently than young cells requires that we have molecular markers that we can track," Sligh said. "It won't be long before other investigators who have other human tissue specimens -- brain, lung, heart, for example -- look for these changes and report back.
Read the entire report
here
.
The
mitomap
is one more biomolecular database that will be immensely helpful in the continued quest to understand the effect of age on the human organism.